If you happen to live in Northern California and love a good blackjack game, you may want to visit Jackson Rancheria Casino Resort in the near future. In 2012, the casino was given the privilege of testing out a new blackjack variant from SHFL with an optional side bet called House Money. Despite its popularity, the game hasn't spread too far yet, but serious players, the side bet offers more control over standard gameplay than ever before.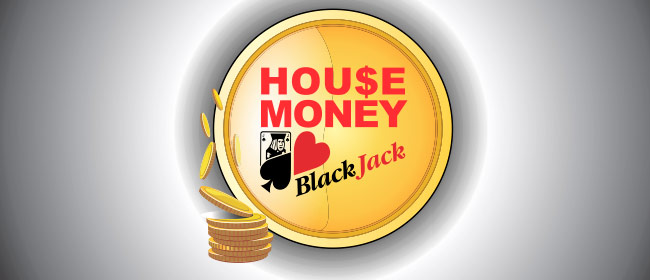 The House Money blackjack game is played just like any traditional game of blackjack, but a winning side bet gives the player an interesting choice. We'll get more into that in a moment. First, let's discuss initial betting stages and potential payouts on the House Money bet.
[showSites]
As always, the player must make a standard blackjack bet to start. He may then choose whether or not to place a side bet. House Money bets can be placed in amounts ranging from $1 to $25. Once all wagers are on the table, the player and dealer each receive two cards. The player's cards are turned face up. Qualifying House Money bets are then paid (regardless of dealer blackjack) according to this chart:
House Money Side Bet Payouts

Qualifying Hands
Pay
2-Card Straight
1:1
Pair
3:1
2-Card Straight Flush
4:1
Ace-King Suited (Blackjack)
9:1
If no qualifying hand is dealt and the side bet is lost, the blackjack game continues in normal fashion. However, if the House Money bet wins, that's where things get really interesting. The player is given the option of adding their side bet winnings to their original blackjack wager. Now remember, the player has already seen their cards at this point, as well as the up-card of the dealer. In any classic blackjack game, adding chips to your bet at this point is considered cheating. But in House Money blackjack, it's an additional strategy for players.
Strategizing your House Money winnings
Let's say you wager $20 on the blackjack game and $5 on the side bet. You are then dealt a pair of 10's, paying $15 for the side bet, plus the original $5 wager. That's an extra $20 you could add to your standard blackjack bet. And if the dealer is showing something like a 5, what better time to top up your bet? Alternatively, if you were to be dealt a 6h-7h, paying 4:1 on your side bet, you may want to pocket the House Money and stick with the original wager before Hitting or Standing on a precarious 13.
Roger Snow is the Executive VP and Chief Product Officer for SHFL Entertainment (formerly Shuffle Master), based out of Las Vegas. He also happens to be the mastermind behind the House Money blackjack game. "House Money is the first side bet that gives players total control," said Snow when the game was first released for testing. "It's totally up to them how they play."