Many gamblers are drawn to blackjack for its strategic abilities and higher resulting payout potential. Those who use enough advanced tactics to convert the house edge to a negative number would do well to play the highest possible number of hands in a given period of time, thereby increasing the profit potential. In turn, mobile blackjack games give players more convenient access to online gaming sites, and Playtech is making it even easier to play more hands per hour with another variation called 5-Hand Blackjack.
[showSites]
Multi-hand blackjack games have been around for years, but the majority of them offer only up to 3 hands per deal. In 5-Hand Blackjack, the spread of the table delivers 5 dealing positions for the player, making it the fastest paced mobile blackjack game on the market.
Being the favorite among fans of the game, Playtech chose to invoke the traditional variant of Classic Blackjack in its initial 5-Hand release. As for the rules of the game, a natural blackjack pays 3 to 2, insurance pays 2 to 1 and the dealer must stand on all 17's, hard or soft. A player can double on any total, split any same-value cards, and all hands are checked for Blackjack after the initial deal. In all reality, it is the exact same game as Classic Blackjack, but instead of playing a single hand, the player can have up to 5 hands dealt to them.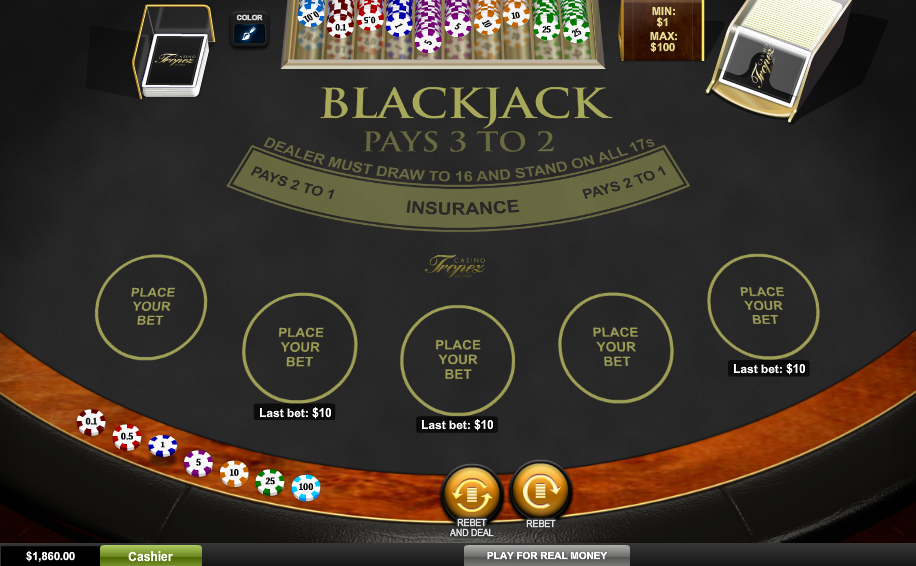 For the more superstitious variety of mobile blackjack fans, players can even choose to play hands only in the positions they feel are lucky. Maybe after a few rounds you notice you have won every hand in the second and fifth positions. You can click to place a bet only in those positions if you wish, then click on Deal; or maybe you want to wager a higher amount on the hands in those positions by increasing the bet size before clicking on their designated spots. Players can also customize the felt color of the table by choosing between traditional green, blue, purple, dark grey, light grey, brown, teal, white or red backdrops.
More Playtech 5-Hand Blackjack Games
The initial release of 5-handed mobile blackjack games was such a great success that Playtech decided to take it a few steps further. Members of Playtech powered online casinos will also find 5-Hand Blackjack Surrender and 5-Hand Blackjack Pontoon on the ever-rowing menu of online casino games.
Growth of Mobile Blackjack by Playtech
Playtech was a late bloomer in terms of mobile gambling technologies. Its largest rival, Microgaming, launched the very first mobile betting app in 2003, but the public wasn't very receptive back then. As smartphone and tablet popularity rose, Playtech finally jumped into the market in 2012.
By waiting so long, the company was able to exploit HTML 5 technology in the release of its mobile blackjack and slot games. HTML 5 optimization offers the highest rate of compatibility with today's most popular smartphones and tablets, including old and recent-model Android and iOS powered devices. Users can choose between the downloadable, resident casino app, or play instantly via mobile casino websites.