Playtech is a leading developer of interactive gambling amusements, and for blackjack fans, there's no better time to hit up the brand's multitude of online casinos. The jackpot for Progressive Blackjack, a variation of classic blackjack with an optional side bet, has topped the $100k mark for the first time in over two years.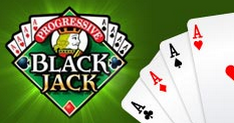 The current jackpot on Playtech's progressive blackjack game, at the time of writing, was $103,596. The last time the gradually increasing jackpot was struck, it paid $105,730 in August of 2012. According to statistics, the jackpot is released once every 2 to 2.5 years, meaning it's primed for the winning.
[showSites]
The standard gameplay on Progressive Blackjack mirrors that of any other traditional blackjack games. The object for the player is to beat the dealer by achieving a hand closer to 21 without going over. Doing so instigates a basic payout of 1:1, with a heightened 3:2 payout for winning with a natural (original two cards) blackjack.
The game uses a shoe of 6 card decks. The dealer is required to stand on any hand of 17 or above, including a soft 17. The player may double down on any two-card total and is permitted to split and re-split up to 3 times, although split Aces must stand on their new two-card total. There are no Surrender or Late Surrender rules applied, but Insurance can be purchased when the dealer's up-card is an Ace.
What makes Progressive Blackjack more exceptional than standardized variations of the game is its side bet. In order to unleash the Playtech progressive jackpot, the player must opt in to the side bet by placing an additional $1 wager that pays off based on the cards dealt to the player throughout the hand. If the player wins with a hand that qualifies for a side bet payout (hand must contain at least one Ace), the following pay table applies:
Playtech Progressive Blackjack Side Bet Pay Table
Qualifying Hand
Payout
1 Ace, any suit
5:1
2 Aces, mixed suits
50:1
2 Aces, suited
100:1
3 Aces, mixed suits
250:1
4 Aces, mixed suits
2500:1
3 Aces, suited
5000:1
4 Aces, suited
Jackpot
With 6 decks of cards in the mix, there are 24 Aces that can be played at any given time. There's a 1-in-13 chance of being dealt an Ace, and only a 5:1 payout occurs if it happens. Based on that calculation, it may not seem favorable to place the $1 side bet in Progressive Blackjack. However, it should also be noted that every time a player hits blackjack, they will automatically win the side bet (if placed). Additionally, if a hand happens to receive two Aces, the payout jumps significantly to 50:1, and remarkably higher for more and/or suited Aces.
Considering the extreme value of the progressive jackpot currently involved, it's definitely worth placing the extra $1 side bet at Playtech online casinos. The software giant licenses its superior casino client to a throng of more than 140 internet gambling websites, including the most distinguished operators like Sky Casino, William Hill and Winners Casino.
Playtech isn't the only online casino software supplier to offer a progressive blackjack game, but it certainly seems to be the most popular – and rewarding. From a comparative standpoint, Playtech's progressive value of $103,596 reaches far beyond that of its competitors. Progressive Blackjack by Cryptologic is presently worth $67,795, while WGS Technologies' version is value at $51,678. Microgaming's progressive Triple Sevens Blackjack has built its way to $19,028.