Click your way over to the Google Play store, perform a simple search for the term "blackjack" and you'll get more than 250 results. Most of the apps free to download on your Android smartphone or tablet, but the majority also have something in common—they are simple electronic simulations of the game that do nothing to impart a proper blackjack strategy to the player. Then there's Blackjack Trainer Pro, a little-known mobile blackjack app specifically designed for that purpose.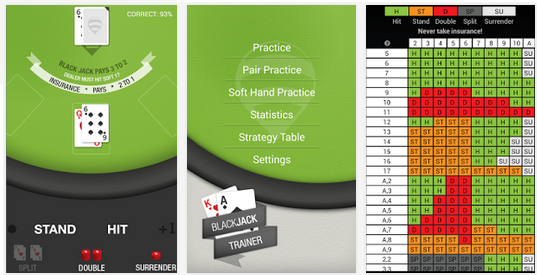 Blackjack Trainer Pro was developed by HornetApps and launched in 2012, with the latest update released on December 11, 2014. It comes with a price tag of $4.99 (up from $3.99), making it one of the pricier blackjack apps on the market to date, but the reviews from those who've purchased the game all seem to say the same thing—the $5 is money well spent.
[showSites]
There are near 200 reviews from actual users of Blackjack Trainer Pro at the Google Play website, and 94.97% of them rated the software with either 4 or 5 stars (72.36% gave it 5 stars). According to those users, Blackjack Trainer Pro is the best way to learn all avenues of the game, from basic rules to beginner, intermediate and advanced blackjack strategy.
Unlike most mobile blackjack apps, the user is able to customize the most common blackjack rule variations found throughout all live and online casinos. They can alter things like how many decks to play with (1 – 8), whether the dealer Hits or Stands on Soft 17, whether the dealer peeks for Blackjack, or if the Surrender rule should be utilized.
Now I certainly haven't tried every blackjack strategy app on the market myself, but according to HornetApps' description, "No other application allows you to set as many configurations as BlackJack Trainer [Pro]."
The developer clearly states that Blackjack Trainer Pro "is NOT a blackjack game", but rather a teaching tool designed to show users the correct way to play each and every hand. By evaluating the odds of individual situations, players can cultivate a proper blackjack strategy to optimize their results.
Due to the high customization capabilities of Blackjack Trainer Pro, the app is perfect for most player types and scenarios. Whether the user is brushing up on their skills before a big trip to Las Vegas, or simply wants to memorize the proper use of a situational blackjack strategy, all of the necessary elements to accomplish those tasks are provided.
What about Card Counting?
It should be noted that card counting is not among the blackjack strategy tools offered by the mobile app. Because the cards are reshuffled with each new hand, it does the user no good to attempt counting the cards. Interactive casinos work in the same manner, and with more and more fans of the game transitioning to online gambling websites, counting cards isn't a prerequisite to strategic play.
For those who wish to add card counting to their blackjack strategy, the simplest way to do so is to grab a deck of cards and flip one at a time, keeping count with every turn. If the count ends at zero, it's correct. If not, keep practicing. Just keep in mind that anyone intending to count cards at a live blackjack table should be extremely well practiced and able to do so inconspicuously.