The majority of today's free mobile gaming apps are designed with a social element, where players have the option of competing against their friends and other real people around the world. While the social environment has its perks, those who want to increase their skills in gambling genres like blackjack are better off in a fast-paced, player-vs-computer atmosphere. That's exactly what the free mobile app, Gold Rush Blackjack, provides.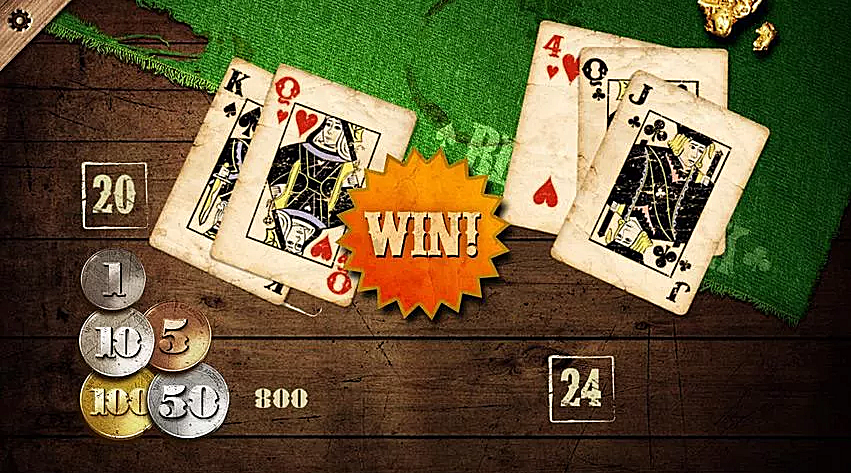 Gold Rush Blackjack was developed by Gadgetcrafts in 2013, but became a lot more popular just recently with last month's latest update. A lot of the features players had been asking for were finally integrated, including a new blackjack rewards system and more coins.
[showSites]
With the number of installs quickly approaching the 50k mark, I decided to spend some time testing out this download blackjack app. As it turns out, it has a lot of great qualities. We'll discuss those, along with some of the drawbacks, below.
Highlights of Gold Rush Blackjack App
The rubrics and payout structure of the game follow the same basic rules of blackjack found at most real-money online casinos. Players can Double Down on totals of 9-11 and any same-value cards can be split (7-7, Jack-Jack, 10-King, etc.) The dealer must Hit Soft 17 and if the player/dealer totals tie, it's a Push.
The game loads up lightning quick and play runs as fast as the player can tap the screen. The graphic quality is superb, although I may be biased based on my favoritism of the old-west style cinematics.
There are three types of blackjack tables available – Classic Green, Vintage Red and Modern Blue – but you'll have to spend your coins to purchase the second two; something I feel adds to the challenging element of the game.
The available bet sizes change depending on how many coins a player has. New players start with 500 chips and the range begins at 1-100 bets. Once the player has 1,000+ coins, the table limit increases t 5-1,000 per wager.
Disadvantages of Gold Rush Blackjack App
While the developers updated the download blackjack app to decrease the frequency of pop-up ads, they still occur after anywhere from 5 to 10 hands. Unfortunately, the actual number of hands that take place between ads is random, so you'll have to be careful not to accidentally click on them when they appear.
There's no option to re-bet either. Players will have to touch their desired coin size and the Deal button with each new hand.
While I haven't played this game enough to generate billions of coins, some players have complained about a cap on potential winnings, seeming to top off somewhere in the 2-billion range.
A few criticized Gold Rush Blackjack for becoming repetitive and boring, but let's not forget this is classic blackjack. It is a monotonous game by default. Generally it's those who excel at the game, and play for real money, that keep at it. So if you're goal is to develop and hone your skills at a realistic game that mimics real money online blackjack, you should know that monotony comes with the territory.
Gold Rush Blackjack Review – Conclusion
All in all, I think Gold Rush Blackjack gives players a wholly entertaining experience that is as enjoyable as it is beneficial to blackjack pros in training. The ads can be annoying, yes, but that comes with just about every app out there – especially the ones that bother to continuously update the software. If you enjoy an old-west theme and are looking to get better at blackjack, whether you're a complete novice or an active player of the game, this download blackjack app is a great option.
You can get more information and download Gold Rush Blackjack for Android on the Google Play Store.